If your Company is interested in purchasing one of listed Used Soap Machines, please
contact us
and fill all the proper form.
OVERWARPPING MACHINES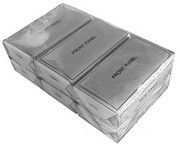 Overwrapping machines and bundling machines to produce multipacks of wrapped or cartoner soap bars in different bundle configurations. The bundling machines use cellophane, PVC, BOPP PP and other types of heatsealable films from reels. Depending on the model, it is possible to produce packs on 1 floor or 2 floors (with stacking mechanism). The film used by the soap budnling machines can be neutral or printed.

SOAP BUNDLING MACHINE BFB-3701
DIFFERENT BUNDLING CONFIGURATIONS
SOAP BUNDLING MACHINE BFB-3705
TO PRODUCE MULTIPACK

MANUFACTURER: BFB


BUNDLES ON 1 LAYER



SOAP BUNDLING MACHINE BFB-3711
SOAP BUNDLING MACHINE BFB-3703
Ultra high-Speed Overwrapping Machine GIMA FT0511
•Capacity: up to 500 pieces per minute
•For hotel soaps, candys box, packages of chewing gum